by Don Moore
Thirty years ago, Don Moore wrote this article which appeared in the June 1985 issue of "The Carnival Pump." The prices quoted in this article are from that era.
Ever since I can remember, I've heard it said that peach opal is about ready to take off. It hasn't really happened. To be sure, there have been price increases, but when compared with aqua opal, red, and the pastels, it has been a laggard. Please don't get the impression peach opal has done nothing. A peach opal Nautilus, for example, sold for $175.00 at the Wishard auction in 1977. One sold for $300.00 at the Spierling auction in 1982. This is a 70 percent increase. Not too shabby. It is only when compared with the aqua opals, pastels, and reds that it appears so small. An aqua opal Rose Show, for example, sold for $135.00 in the 1976 Collier auction. It sold several different times during 1983 for an even $500.00—nearly a 300 percent increase.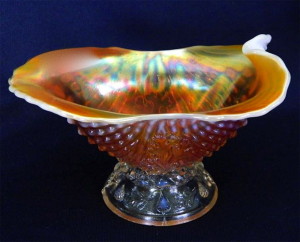 Above is a peach opal Nautilus piece, which Don said sold for $175 in 1985, but now sells in the $25 – $100 range.
There have been some dramatic exceptions where one-of-a-kind peach opal rarities are concerned. For example, the Farmyard bowl in peach opal sold for $9600.00 at the Jankauer auction in 1978. The Victorian brought $1200.00 in a private sale a couple of years ago, and the Grape and Cable bonbon sold privately last year for $1500.00. While none of the few known Fruit Salad peach opal punch sets have sold. I'm sure they would command some $3500.00.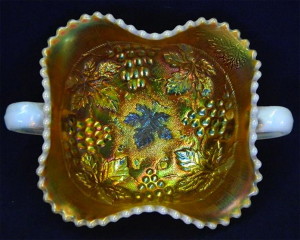 Here is a peach opal Grape and Cable bonbon that sold privately in 1984 for $1500. One sold in 2014 for $13,000.
It's a bit of a different story, however, when we drop down to the more prevalent peach opal, such as the Ski Star, Apple Blossom Twigs, Fanciful, Caroline, Petal and Fan, etc. The prices on these pieces have not kept pace with the pastels or any of the other opalescent edge colors. Why is this so? I feel it is basically a matter of supply and demand. Peach opal was made in volume and is certainly much more available than aqua opal or the very limited blue opal, amethyst opal, red opal, or lime green opal. Coupled with this is the fact that many collectors find peach opal less appealing from an aesthetic point of view. Some will also argue that it comes down to the fact Northwood made most of the aqua opal pieces, while Dugan-Diamond made the great bulk of the peach opal. They feel the Northwood patterns are simply more beautiful and desirable. I'm not sure I agree. For sheer beauty a peach opal display on a dark background is hard to beat.
There are very few patterns that were made in both peach opal and aqua opal. The best example I can think of is Fenton's Dragon and Lotus bowl. Both colors are very rare in this piece. An aqua opal bowl sold for $600.00 at the Heart of America convention auction in 1981, while one in peach opal sold for $475.00 at the Carroll auction in 1983. This rather graphically illustrates the fact that while most collectors prefer aqua opal, there isn't that much difference when equally rare pieces in the same pattern are compared.

Due to the superb research efforts of Bill Heacock, we now know that Dugan-Diamond made some 90 percent of all the peach opal. To my knowledge, Imperial and Millersburg made none. It is also doubtful if any was made by Northwood. The signed peach opal Nautilus is believed to have been made by Dugan-Diamond from an old Northwood mold left behind when the plant was sold in 1901. Dugan-Diamond did not bother to remove the signature. One signed peach opal Beaded Cable rose bowl has also turned up. It is owned by Charlotte and Gordon Williams of Lodi, California. This piece could also have been made from a carryover mold as we know that this piece, like Nautilus, was made earlier by Northwood in custard. The peach opal Grape and Cable bonbon is also a one-of-a-kind. It is unsigned, but so are a number of these pieces in other carnival colors. It is quite likely that it, too, was made by Dugan or Diamond. This piece was made by Northwood in milk glass with marigold iridescence, but this is not to be confused with true peach opal.
Don speculated that this peach opal Fruit Salad punch set would command $3500 at the time this article was written. One sold in 2014 for $1900.
At this point it would appear that Fenton and Westmoreland were the only companies other than Dugan-Diamond to produce any peach opal, and their production was minimal. The Scales bowl and the rare Fruit Salad punch set are examples of Westmoreland's peach opal. The Peacock and Grape bowl is one of Fenton's peach opal pieces. Fenton, as previously mentioned, used this color for Dragon and Lotus, Blackberry Banded hat shapes, and a single Orange Tree plate is known. A one-of-a-kind rare Orange Tree hatpin holder is also known. It is in the Loescher collection in Beloit, Wisconsin, unless George has needed some money very badly. A rare Stag and Holly bowl has also been confirmed recently.

It is often difficult to know which production to attribute to Dugan and which to Diamond since, like Northwood before them, they each operated from the same factory site at Indiana, Pennsylvania.

The ad shown here is from a 1911 Butler Bros. catalog. Since Dugan operated this plant from 1904 to 1913, we can assign these three patterns to Dugan. On the left is a Smooth Rays bowl with Jeweled Heart exterior. A Petal and Fan is in the center, and a Ski Star is on the right. Note the reference in the ad to "pearl edges."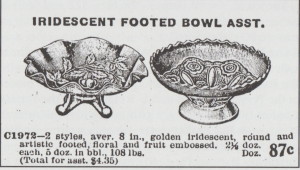 This ad is a persistent one. It appears in the 1916, 1917, 1918, 1919, 1921, and 1923 Butler Bros. catalogs. It shows a three footed Cherries bowl (previously called Northwood Cherry) and a dome base Double Stem Rose. While no reference is made to a "pearl" edge, I feel sure these are peach opal as they were made in volume in that color. The dates of these ads leave little doubt that Diamond rather than Dugan made these patterns as Diamond operated the plant from 1913 to 1931.

And what about the future of peach opal? I, for one, feel it can go no place but up. While it may never keep pace with aqua opal, it is almost certain to outperform the more standard colors. To a certain extent it will become "the only game in town" as aqua opal and the other opalescent edge pieces become entrenched in collections. So, just like they tell you to buy your straw hats in the winter time, my advice, for what it is worth, is to buy your peach opal now and avoid the rush later on.