by Don Moore
I hesitated to entitle this article "One of a Kind" because that is so seldom the case. Also, I'm sure many collectors are sick and tired of hearing items constantly referred to as "only one known", etc. There is another group of collectors who want to know how many examples of certain rarities have been documented to date. I fall into this group. The mere fact we label something "one of a kind" often encourages others who have one to come forward thus adding to our store of knowledge. As far as I know, the pieces pictured here are the only ones known, but I'll be surprise if that proves to be the case after this article circulates.
What accounts for the fact a company would make only a single example of a piece? Several explanations are possible. The one usually advanced is that it was "experimental". I really don't know what that means. No doubt the term "sample" would be more correct. For example: I know that companies making contemporary carnival sometimes pressed a piece in several colors with the intention of putting only one color into production.
Another explanation that has always made sense to me is the fact they had difficulty with the mold and decided it was impractical and unprofitable to proceed further. It's also possible that certain patterns, colors, or shapes may have come along at the time they were going out of business, or changing from one type of production to another. Of course, we must remember that more than the one piece was made, but only the one has survived.
The term "whimsey" relates to shape only and not to color or pattern. A true whimsey will always be one of a kind as it results from the imagination and free expression of a workman who hand shaped the piece after it came from the mold. If several pieces are known, then it was probably a production line item where only a few have survived.
This will be a two-part series with the second half appearing in the next issue of the Pump, so stay tuned. And now a brief look at the pieces pictured in this issue's color spread.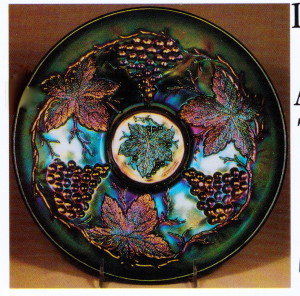 PURPLE HEAVY GRAPE ICE CREAM SHAPE BOWL (DUGAN). John Britt bought this handsome piece from Shadow Hills Antiques of California in the early 1970's. It came out of a collection that had been put together in England. I bought it from John in 1974. It measures eleven inches and is the only one I've seen in the ice cream bowl shape.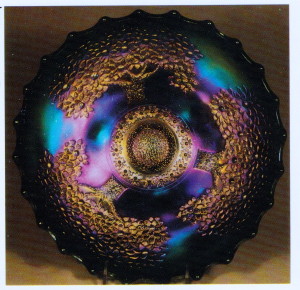 BLUE ORANGE TREE CENTERPIECE BOWL (FENTON). I stole this from my friend, Bob Vining, in 1975. To my knowledge four are known, one in green, one in amethyst, one in marigold, and this one in blue. It measures eleven and three-fourths inches in diameter. These pieces are flattened from the more commonly see orange bowl.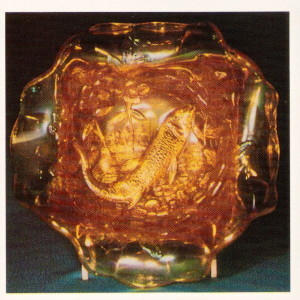 VASELINE WHIMSEY SHAPE BIG FISH BOWL (MILLERSBURG). As far as I can determine, only one of these pieces was made in vaseline in five different shapes; the one shown here which is really a square piece with the corners turned over, a rose bowl, banana boat shape, tri-cornered, and a round deeper bowl. All are from the same mold and all are super rare.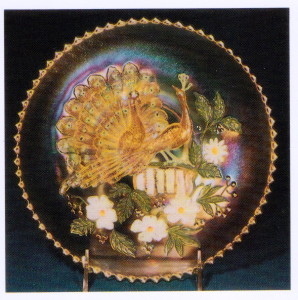 WHITE DECORATED PEACOCKS PLATE (NORTHWOOD). Mrs. Hartung owned this piece for many years. She described it as experimental. Wiley Addis bought it from Mrs. Hartung, and after many years sold it to me.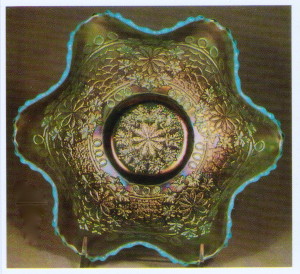 AQUA OPAL LEAF CHAIN BOWL (FENTON). This bowl and two plates are known in aqua opal. I got it from Ken Abendrath when he sold his collection in 1980. These pieces are very rare and desirable.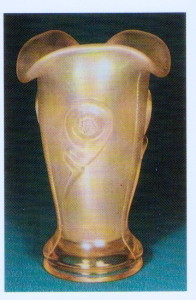 WHITE TORNADO VASE (NORTHWOOD). This piece was made in some unusual colors and shapes. Many of them, like this white one, seem to have been the only ones made. This piece came from Billy Edwards, North Carolina in 1981. It is plain but the few ice blue and cobalt blue ones that are known are ribbed.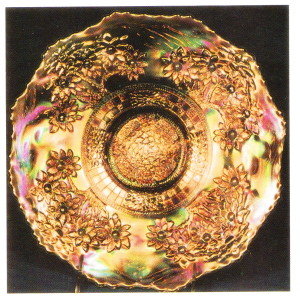 PEACH OPAL ORANGE TREE PLATE (FENTON). Several other pieces are known in this pattern in peach opal and they also seem to be the only ones known. This includes a bowl, a hatpin holder, and a loving cup. I bought this plate from Steve Morrow in 1977. He was coming out of a room at a convention where he had just bought it. He owned it for less than ten minutes, which may still be the record for the shortest period of ownership.
RUFFLED TOP DEEP GRAPE COMPOTE (MILLERSBURG). This piece can be properly called a whimsey. The regular compote in this pattern was made in both a round and a square shape, but none of them have the ruffled top. John Britt has this piece in a rose bowl shape. The whimsey shown here came out of the Jack Wilson Auction in 1982.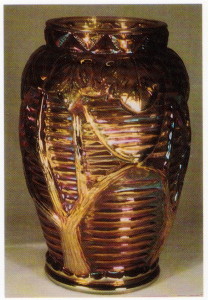 MARIGOLD TROPICANA VASE (UNKNOWN). I understood there were two of these but have been unable to confirm the second one. This piece is from a three-part mold, and is possibly of European origin. It is a fantastic piece of glass. We bought it out of the famous Carol Moore vase collection.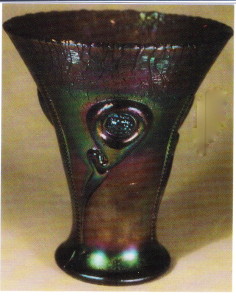 WISTERIA TORNADO WHIMSEY (NORTHWOOD). This is a dramatic variation of this piece which we show in white (see above). Not only is it in a rarely seen (except in stretch glass) wisteria color, but it is also a whimsey cone shape and carries a heavy stretch finish. This piece sold for $2500 at the 1988 American Convention Auction.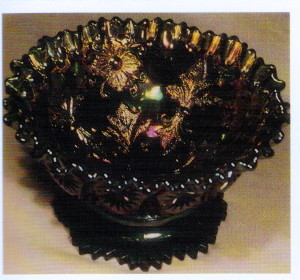 GREEN FLEUR DE LIS WHIMSEY SHAPE (MILLERSBURG). The pedestal base pieces are normally pulled out at the tope to form a nine and one-half to ten inch fruit bowl. in this case a workman decided to pull it into an eight inch piece that is almost a compote in shape. It reminds me a bit of the shape of the Christmas Compote. There is also an example of this that has been squeezed into a pedestal base rose bowl.
BLUE UNLISTED BLACKBERRY MINIATURE PITCHER (PROBABLY MADE BY U.S. GLASS). This piece, without the blackberries, is known in pattern glass by the name Virginia, and also as Galloway. It was in clear glass as a child's water set by the U.S. Glass Co. This variation is the only piece I have seen in carnival.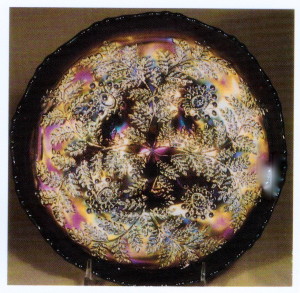 BLUE FENTON'S FERN BOWL. This piece was originally owned by Bernice Allen of Hopewell, VA. It is footed and measures nine inches in diameter. It is indeed a mystery why only the one piece is known in this beautiful pattern.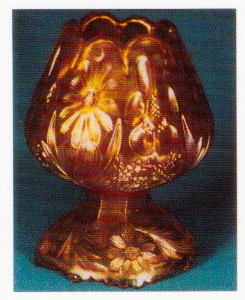 HONEY AMBER COSMOS AND CANE WHIMSEY (U.S. GLASS). This particular mold was used for a great variety of whimsey shapes. The uniquely shaped piece shown here sold at the 1983 Heart of America convention auction for $625.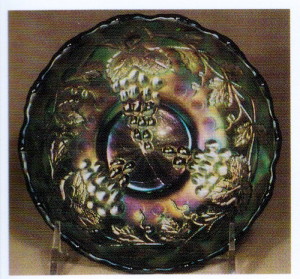 GREEN MILLERSBURG VINTAGE/HOBNAIL SAUCE. In his excellent research notes on Millersburg, Jack Wilson says only this one piece is known in green, one in amethyst, and possible two in blue. I bought this one in his 1982 auction for $425.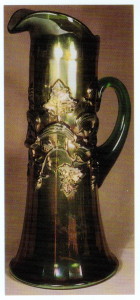 GREEN MORNING GLORY WATER PITCHER (MILLERSBURG). Four of these are known in amethyst and three in marigold. Only the single one has surfaced in green to date. I consider these the rarest and most beautiful of the carnival glass water pitchers.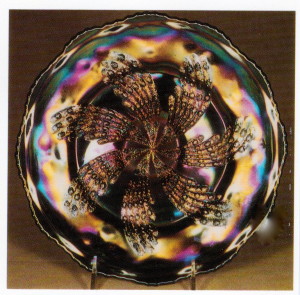 BLUE FANTAIL PLATE (FENTON). This piece was in Marion Hartung's collection for many years. It was stolen when a man and a woman got into her home, tied her up and took some 200 pieces of carnival in 1974. Through a complicated series of phone calls to me trying to sell this plate and other items, I was able to recover some35 pieces for Mrs. Hartung. These turned up in souther California. I have often thought that if this piece could talk, it would have some interesting stories to tell. I bought it from Mrs. Hartung's estate auction in 1983 for $1000. The perpetrators of the robbery were never brought to justice. Mrs. Hartung was tied up and blindfolded for several hours while the thieves selected and packed the glass. She was reasonably certain she know who they were but felt she would never be able to prove it.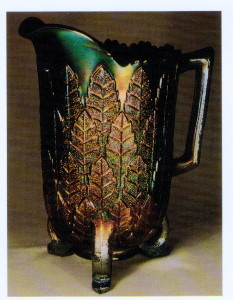 BLUE LEAF TIERS WATER PITCHER (FENTON). Apparently, Don intended to include this blue Leaf Tiers water pitcher in the one of a kind article. The accompanying caption was obviously missing in the article that appeared in the Pump. It certainly should be included in the article.
That's about it until we look at some more pieces in Part II of this subject in the next issue of the Pump.