Dean Fry, avid collector and tireless promoter of carnival glass, died November 17, 2014.

Dean was born and grew up in West Virginia, served with the U.S. Navy in the Korean War, and worked in the construction trades industry, for nearly 30 years in San Diego, California. He and Diane Nowery were married in 1952. In 1998, after retiring, they moved to Whiteland, Indiana. Besides Diane, Dean is survived by their son and daughter-in-law, Mark and Phyllis Fry.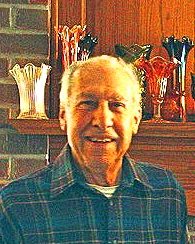 Dean designed and built the cabinet that stands behind him.
Like many of us, Dean and Diane got into carnival by by fate. As Diane puts it:
"While we still lived in Parkersburg, West Virginia, in 1963, my mother called one day, saying a friend of hers who ran an antique shop just phoned, to say she had just taken in a box of nicely hand-painted china (I was looking for a match to some pieces already on hand). As I walked into the shop, the sun was beaming on a pretty, brightly colored vase on a window ledge. I walked over, picked it up, and asked, 'What is this called?' She said, 'That is known as carnival glass. The pattern is Tree Trunk, made by Northwood.' Well, I forgot all about the china, paid for the vase, took it home, and placed it on the piano where I knew Dean could not miss seeing it when he came in from work. Sure enough. As he picked it up, he asked, 'What is this?' When I answered, his reply was, 'Well, we'll have to get some more of this!'" That they did. Much more. Both were hooked.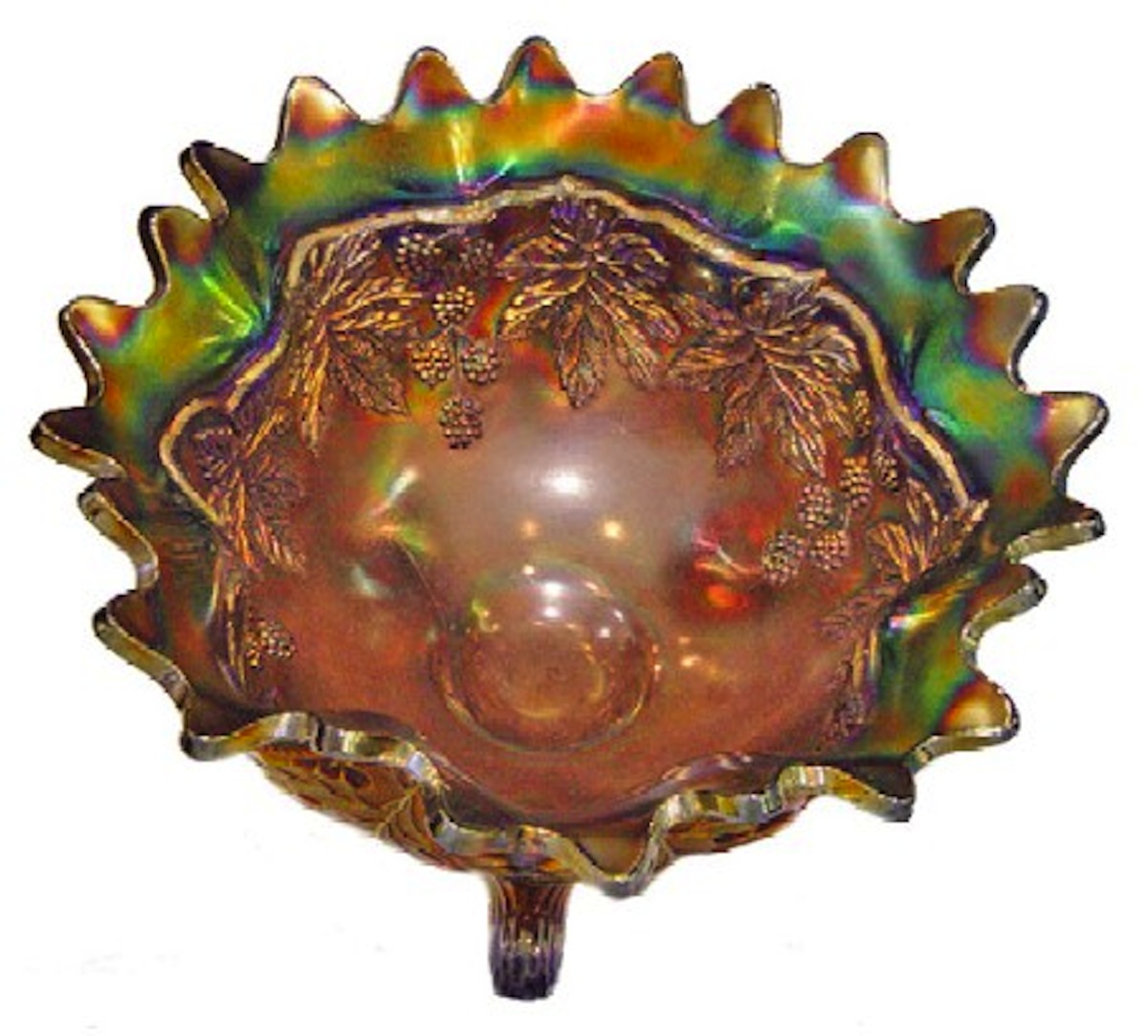 Cobalt blue Grape and Cable, with Blackberry interior, bowl was Dean's favorite.
In 1983, Team Fry (with Mike and Dee Sponsler) organized a meeting of southern California collectors. Approximately 35 collectors attended. That event led to the formation of the San Diego County Carnival Glass Club. Over time, membership grew to more than 200. Presenters at quarterly meetings and annual conventions, the first held in 1985, included luminaries like Marie Capps, Smokey Cloud, Marie McGee, Don Moore, George Thomas, and many others.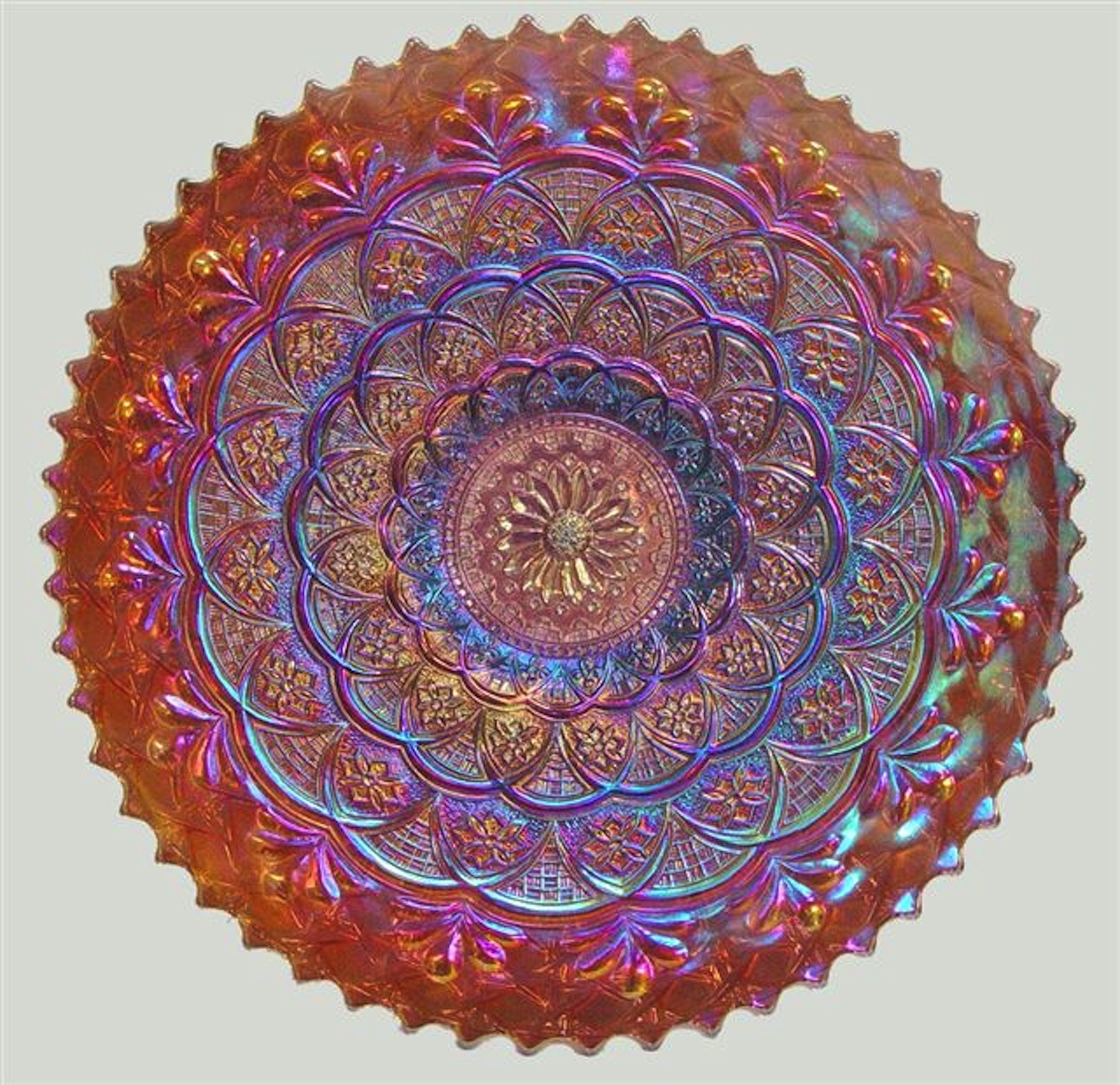 A gorgeous Persian Garden chop plate from the Frys' collection.
SDCCGC newsletters were issued from the start, initially more out of necessity (announcement of meetings, program notes, and so on) than for education. It wasn't long, though, before educational articles became a staple. Each newsletter included the club's memorable, ever relevant motto: "Iridescence is the essence." While Diane was editor, Dean provided nearly all the photographs, in the early years, of pieces brought to club events and their own glass.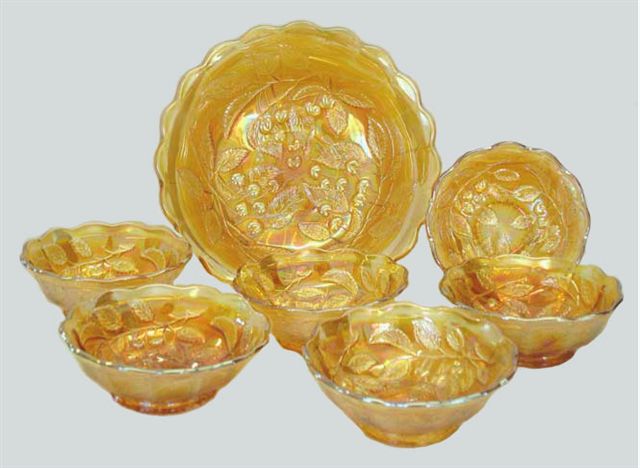 Not many complete Millersburg Hanging Cherries berry sets are out there.
The San Diego club was always on the lookout for ways to finance conventions and other activities. They found a worthy one. At the urging of Frank M. Fenton, the club explored the possibility of compiling, in book form, reprints of early glass trade publications. With copy supplied by Frank Fenton, Charlotte Williams, and Carl O. Burns, the Frys and others took on the project. Not surprisingly, there were hitches along the way. One was identifying a printer with equipment available to handle over-sized pages who would take on the job at reasonable cost. Another involved production delays over which Dean and the printer, as Diane put it, exchanged "heated words." The project was finally completed in April 1994. The limited edition of 250 copies sold like wild fire, leaving procrastinating collectors in the lurch. In recent years, copies have sold at auction, sometimes for much more than the original $25 purchase price.
One of the few iridized pieces in Hexagon and Cane is this covered sugar.
A mutual friend connected the Frys and Donna Adler, suggesting they create a website devoted to carnival. In April 2003 Carnival Glass 101 launched with Diane providing the text, Dean the photos, and Donna the tech. Besides offering something new each week, now for over 12 years, they also post information and photos of other contributors.

"Back home in Indiana," draftsman and craftsman, Dean, not content to sit idly in the peace and quiet of the small town not far from Indianapolis they chose to call home, soon took on a kitchen remodel. Then came the design and construction of a large cabinet in which to display part of their carnival collection. Other projects followed.

We celebrate not only what Dean did but also what Diane has done and continues to do to promote carnival.
~ Larry Keig