The 2020 International Carnival Glass Association Virtual Convention
The ICGA Officers and Board of Directors is pleased to invite you to join us online for the week of July 12-18th for the world's first ever virtual carnival glass convention. With COVID-19 presenting global challenges, we feel our virtual convention offers a week of respite, fun and carnival glass. So join us on our Facebook page, this page and Zoom during the week of the convention as we have activities every night that week!
Tuesday Night Video
Room Displays
Here are the room displays for this year's virtual convention. Please send an email to Barb Chamberlain with your favorite (only one vote per ICGA member) by 10:00 p.m. CDT on Thursday, July 16th!
#1. Candy & Gerald – Just a little ICE to cool your July…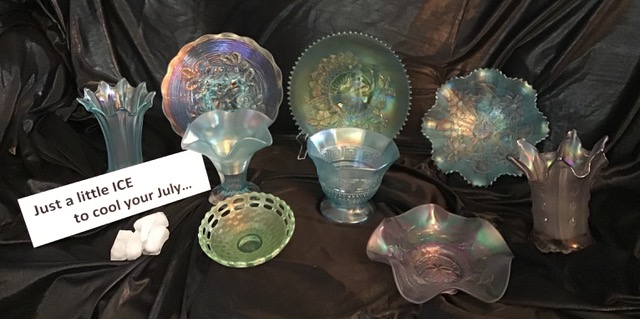 #2 – Carl & Eunice – Different Shapes, Same Color: Smoke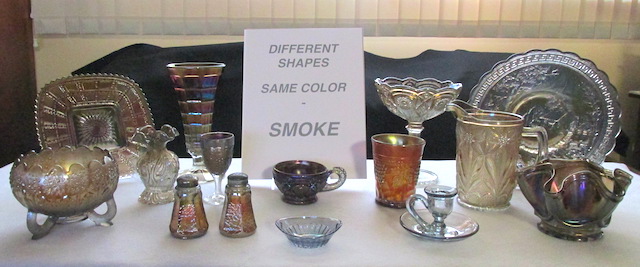 #3 – Bob & Shirley – Digging Opal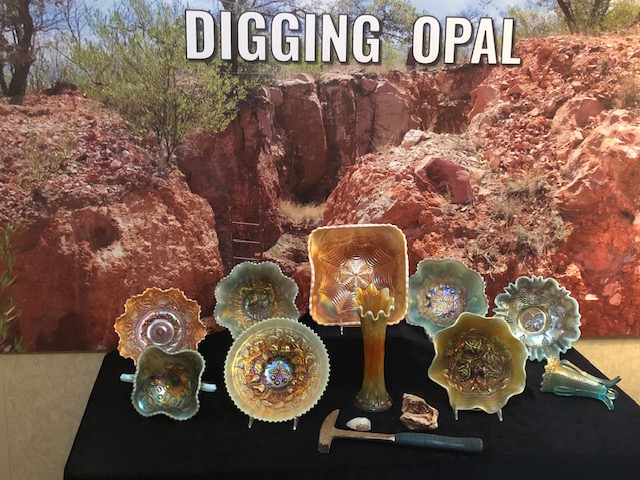 #4 – Ben & Becky – Lime Green Horses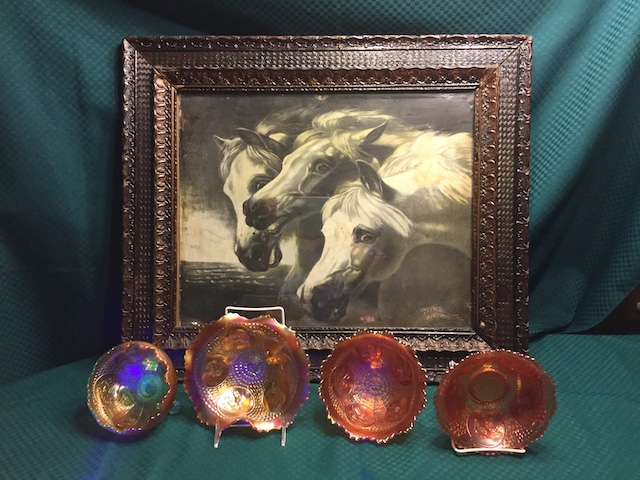 #5 – Don & Barb – Celestial Bodies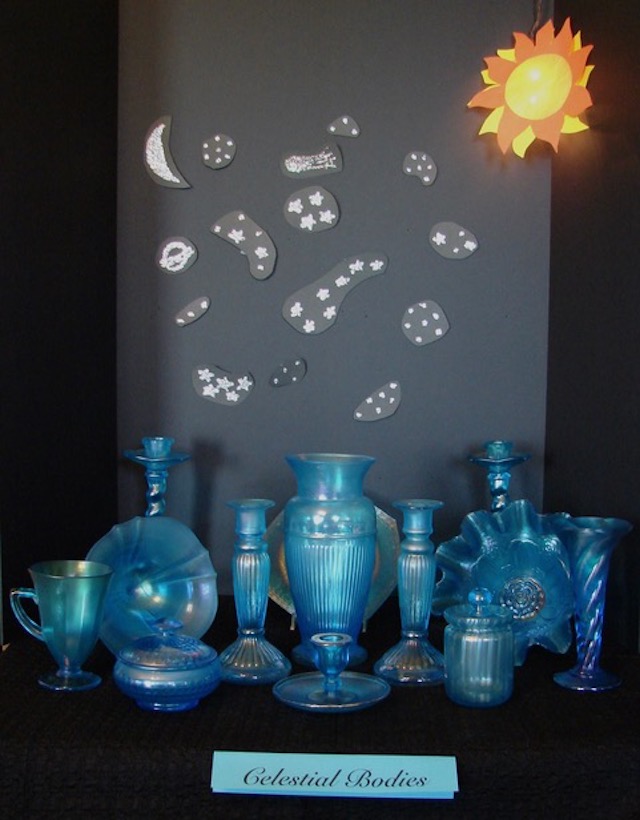 Schedule of Events
Sunday, July 12th – Seeck Online Auction with items closing beginning at 7:00 p.m. CDT
This is the first of two ICGA convention auctions this year, with 225 pieces from the Fred Roque collection. We will use Zoom for this meeting, which will begin at 6:00 p.m. Jim and Jan will be on the Zoom with us, and we can all chat together as if we were in a room at the convention, plus Jim will grab and show us any of the glass that is being auctioned so we can see it "live" and decide if it's something we want to bid on. We did this during the Texas convention and it was fantastic!
Monday, July 13th – ICGA Sing-a-Long Seminar at 7:00 p.m. CDT
On this night, we will be broadcasting the Booker Banquet Seminar from two years ago, which featured a sing-a-long and lots of musical and carnival glass fun. These broadcasts will be on the website and Facebook, and then afterwards we will Zoom as a group to chat, possibly sing, and have a good time (will we go to midnight? Who knows, we might!)
Tuesday, July 14th – Don Moore Seminar at 7:00 p.m. CDT
Don Moore may be long gone, but his influence and glass is still present today. As one of the biggest contributors to the ICGA Pump in history, our club has certainly continued to feel his presence. On this night, we will broadcast a seminar from Don Moore (via our time machine) live on our website and Facebook. Then afterwards, it's a Tuesday Night Extravaganza on Zoom, as we play a game of carnival glass trivia. There will be prizes. Will you win??
Wednesday, July 15th – That Collection at 7:00 p.m. CDT
"I wonder what all is in that collection?" is a question many of us have had over the years. On this night, with a live broadcast on our website and Facebook, we are going to try and answer it. Afterwards, it will be a Zoom discussion about what we have just seen, as well as more fun antics! Plus, there may just be some reception goodies to enjoy…
Thursday, July 16th – Display Room Seminar at 7:00 p.m. CDT
Oh, you thought because we won't have a physical display room, we wouldn't have an actual display room with seminar? Good golly no, we are definitely having a display room! And it's still equestrian themed. We will broadcast our seminar live on our website and Facebook, featuring Steve Gregg and Carl Booker, and then we will connect afterwards on Zoom for everyone to share their favorite horse-themed piece of carnival glass. This display could be massive (and we aren't just horsing around!)
Friday, July 17th – Annual Meeting, Room Display Awards, and Auction Preview at 7:00 p.m. CDT
On Friday, we will take to Zoom to hold our annual meeting, including elections, as well as give our cash prize awards to winners with the top five Room Displays. Wait? Room Displays? YES! Now is your chance to showcase your talents and your glass. Send a photo or video of your room display to me (bpitman@gmail.com) by Friday, July 10th and they will appear on our website for people to look at and vote for their favorite. The top five winners will win cold hard cash! Afterwards, we are going to hang with the Seecks as we look at the pieces in the huge convention auction on Saturday morning. This is going to be a fantastic session you won't want to miss!!
Saturday, July 18th – Convention Auction at 9:00 a.m. CDT
It's auction time, as we all meet on Zoom with the Seecks to watch as auction items end. If you win a piece, we expect an exuberant "WOOHOO!" for us all to know who got it! And don't forget to bring your sandwiches and favorite beverage, because this could literally be an all-day affair. Come join us!!
Hotel Information
Essenhaus Inn & Conference Center
240 Hwy 20
Middlebury, IN 46540
Reservations: (574) 825-9471
If you had reservations for our convention this year, please contact them to cancel as soon as possible.